09.09.2020 | Institucional
One thousand lasagnas are sold by SAUR volunteers in favor of Panambi Hospital
All of us against the virus / Coronavírus / Social Responsibility / Solidarity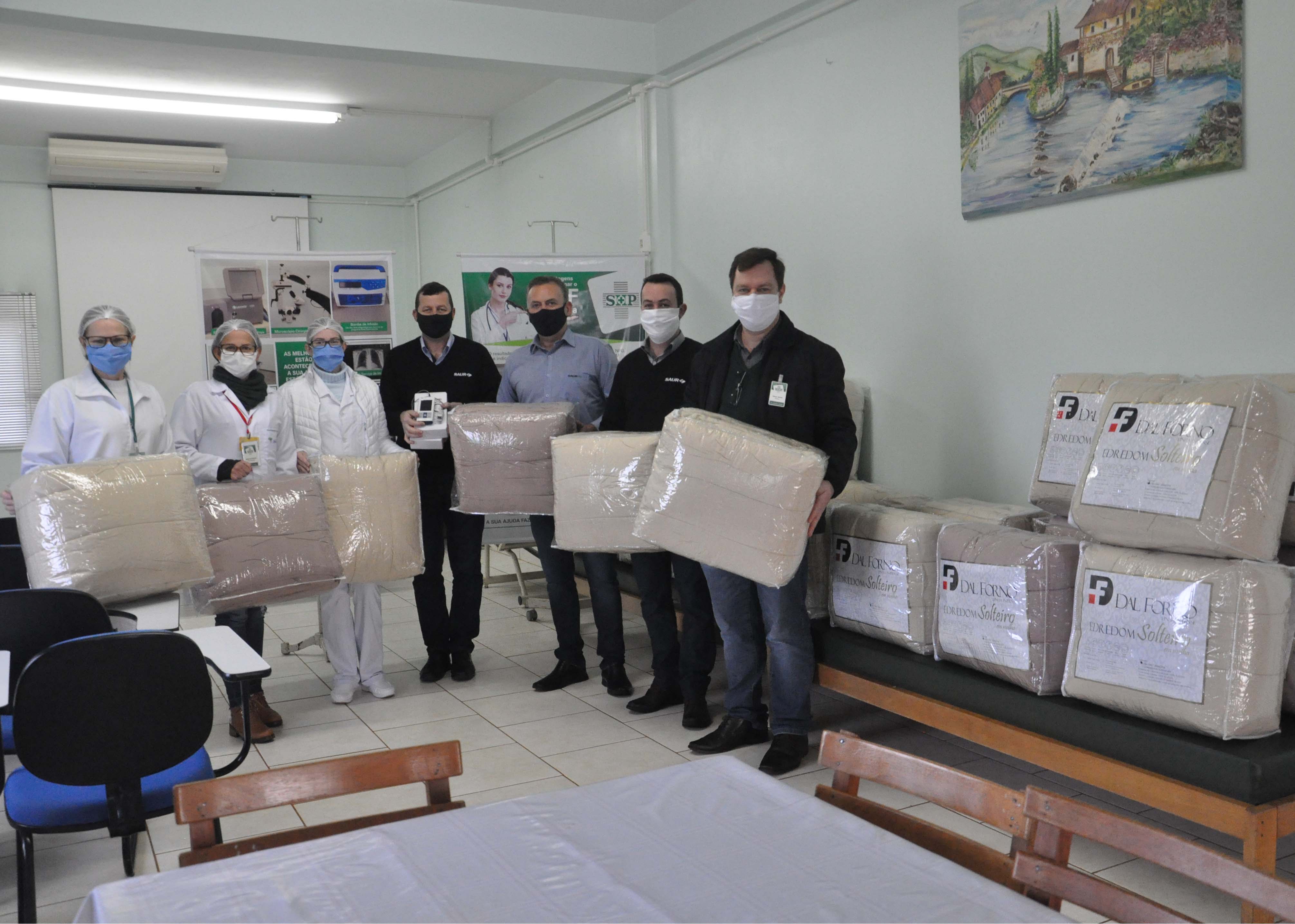 The action "Lasanha Solidária", carried out by a group of volunteers from SAUR, in favor of Panambi Hospital, resulted in the acquisition of two digital oximeters and 28 comforters that were donated to the entity, on July 6th.
During the months of May and June, a group of employees of the company sold lasagnas produced by Giacomo, a pasta industry in Panambi, with the aim of supporting local companies in this Coronavirus pandemic period.
In all, a thousand lasagnas were sold, with the help of colleagues from SAUR, employees of the Hospital, the local community and several people from Panambi who now live in other cities and bought around 100 lasagnas to be distributed to charities in the municipality.
For the director of Panambi Hospital, Vilmar Scheer, the initiative of the employees was important to help the institution: "Volunteering and cooperation transform the world. The actions of SAUR employees in favor of social causes, especially in favor of the Hospital, make a difference for the good of the community. Thank you very much!"
Hospital pharmacist Deborah Dietrich, who helped sell lasagnas and presented the organization's demands, highlighted that the help was essential in this pandemic scenario: "When fighting the New Coronavirus, solidarity proved to be one of the main weapons. Citizens, like the group of SAUR volunteers coming together to face and overcome one of the biggest health crises in the world, deserve our thanks. I am touched by the commitment, affection and recognition towards the Hospital, which belongs to all of us", she concludes.
The employee Erli Vincensi, member of the commission that carried out the action, emphasizes that it is a great satisfaction to be able to help the Hospital and the community: "It is very gratifying to do good and to be able to meet the needs that will contribute to the better care of inpatients." He also thanked the community and the company for the support received: "We are very grateful to SAUR for the incentive and to the people who joined this initiative, buying the lasagnas, promoting it and helping to sell them."